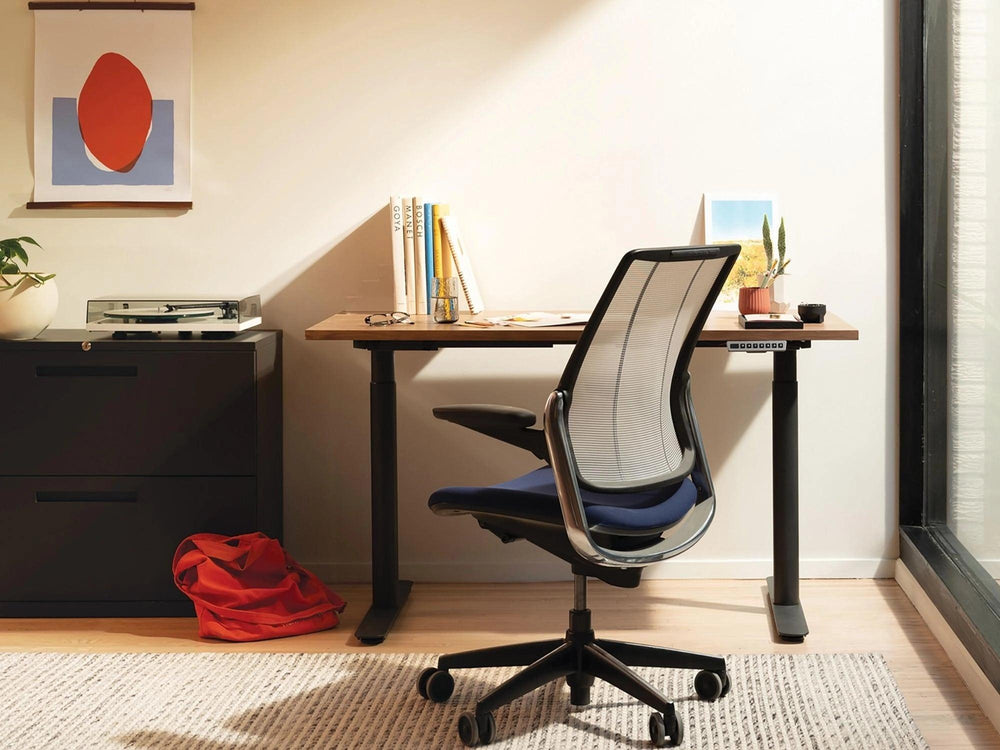 Creating the Perfect Home Study or Workspace
Kick off 2023 the right way by reflecting, refocusing, and refining your workflow! We've put together 7 tips to help you in that process by setting up your home office or study space.
Shopping for a new workspace? Check out the EQ3 Office Sale
Having a dedicated space to work or study at home can greatly improve your productivity and focus. Here are some tips on how to create the perfect home study or workspace:
Choose a quiet, distraction-free location. It's important to have a space that is free from distractions like TV or loud household noise. A separate room or a quiet corner of your home is ideal. Decluttering your space should be a regular activity to maintain mental clarity, and bookshelves or other storage is a great way to keep reading materials or reference equipment out of sight but close at hand.

Invest in a comfortable chair. You'll be sitting in your chair for long periods of time, so it's important to have one that is comfortable and supports good posture. Look for a chair with adjustable lumbar support and armrests to help reduce strain on your back and shoulders.

Get a good desk. A desk that is the right height for you can help reduce strain on your neck, back, and shoulders. Choose a desk with plenty of surface space for all of your work materials, and consider one with a sliding keyboard tray to help maintain good posture while typing. Check out our numerous desk options including L-shaped desks and standing desks (more on that later!)

Add some personal touches. Incorporating personal touches like plants, artwork, or photos can make your home study or workspace feel more welcoming and inspiring. Adding a rug under your feet can also provide comfort without being a distraction. 

Use appropriate lighting. Good lighting is important for both your productivity and your health. Choose a desk lamp with a warm, natural light to help reduce eye strain and improve focus. Check out our full selection of lighting in store, available to be taken home right away!

Consider a standing desk. "Sedentary is the new smoking." Standing desks are becoming increasingly popular as they can help improve posture and reduce the risk of long-term health problems associated with sitting for long periods of time. Try alternating working positions to keep you energized!

Take breaks and stretch. Remember to take regular breaks and stretch to help prevent muscle strain and maintain focus. Get up and take a walk, grab drinks or a snack, and just enjoy a small break to do something fun! 
By following these tips, you can create a comfortable, efficient home study or workspace that will help you get the most out of your work or study time.