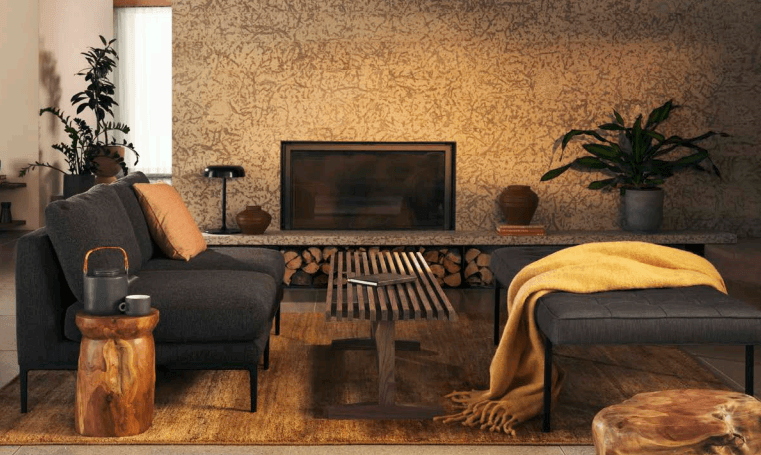 Embracing the Fall Mood (2023)
As Alberta shifts away from our smoky summer, all the telltale signs of autumn are here. Fall is in the air, and we're here with 5 design tips to help your home embrace the mood.
By the way, F2 Furnishings is clearing out summer models to make room for autumn's offerings - visit us today to shop our Clearance Sale:
Shop the Edmonton Clearance Sale
Shop the Calgary Clearance Sale
When it comes to your home, staying in step with the seasons and evolving trends is essential. Here, we explore some of the most exciting furniture trends for the upcoming Fall season. These trends empower you to make tasteful, contemporary, and well-informed choices, creating a cozy haven as the weather grows cooler.
1. The Artistry of Curved Furniture:
Remember our Top 5 Modern Furniture Design Trends of 2023? We mentioned the soft curves and lines making all the rage back in February. Curved furniture continues to captivate and inspire, with its ability to soften the overall look of a space while injecting a touch of intrigue and sophistication. Straight lines and clinical designs of modern furniture have taken a backseat to these voluptuous or gently rounded pieces.
If you're looking to rejuvenate your space, contemplate the inclusion of a sofa, lounge chair, or dining chair with a curved design. These graceful curves possess the transformative power to elevate the aesthetics of any room.
2. The Timeless Allure of Leather:
Leather furniture has always held a special place in interior design, and for Fall 2023, it's making a strong comeback. The enduring appeal of leather lies in its sophistication and durability, offering the perfect blend of style and substance. Leather has always been synonymous with cooler weather - but why limit that to just jackets and boots?
Whether you opt for a classic leather sofa or a sleek leather armchair, these pieces bring an air of luxury and comfort to your living space. Leather's versatility allows it to seamlessly integrate into various interior styles, from rustic to contemporary.
Consider introducing a leather element into your home, such as a sumptuous leather sectional or a leather-accented chair. With its timeless charm and ability to elevate any room, leather furniture promises to be a standout trend for the upcoming season.
3. A Nostalgic Affair with Retro Styles:
Step back in time to a cherished era of retro design, where rich, warm-toned woods graced everything from coffee tables to sideboards. For upholstered surfaces, the spotlight is on bold and colorful pieces, particularly statement-making couches that evoke the spirit of that vintage charm.
4. Warmth in Earthy Tones:
As autumn approaches, there's no denying the allure of warm, earthy tones. Think deep browns, rich oranges, rustic reds, soothing beiges, and calming olive greens. In recent times, Terracotta and Mid-century colors have surged in popularity, while various shades of darker greens have become year-round favorites.
Transitioning your home for the fall can begin with simple yet impactful changes. Consider adding throw pillows and blankets for those that embrace these autumnal hues. Adding a cozy fall-themed centerpiece to your modern furniture, such as your dining room table or coffee table, can instantly set the mood.
5. Form x Function:
Statement pieces that are as practical as they are beautiful. Seek out furniture that combines top-notch materials, impeccable craftsmanship, and a keen sense of style while meeting your daily needs. Think opulent yet functional desks for your home office, sumptuous sofas with hidden storage, or artistic modular shelves.
That's the core of F2 Furnishings - the brainchild of Form x Function. Whether you're creating a workspace, a relaxation haven, or an expression of self, invest in furniture that not only oozes style but also enhances your daily experiences. The allure of functional luxury and quality furniture will continue to shape the way we design and embrace modern living in our stores.
Stay Ahead of the Curve with F2 Furnishings:
At F2 Furnishings, we take pride in staying at the forefront of the latest furniture trends. Our curated selection of modern pieces caters to your evolving tastes and preferences. As Alberta's leading modern furniture store, we understand the importance of blending style, functionality, and innovation to create living spaces that truly inspire. Visit our showroom today and get inspired by the latest styles.