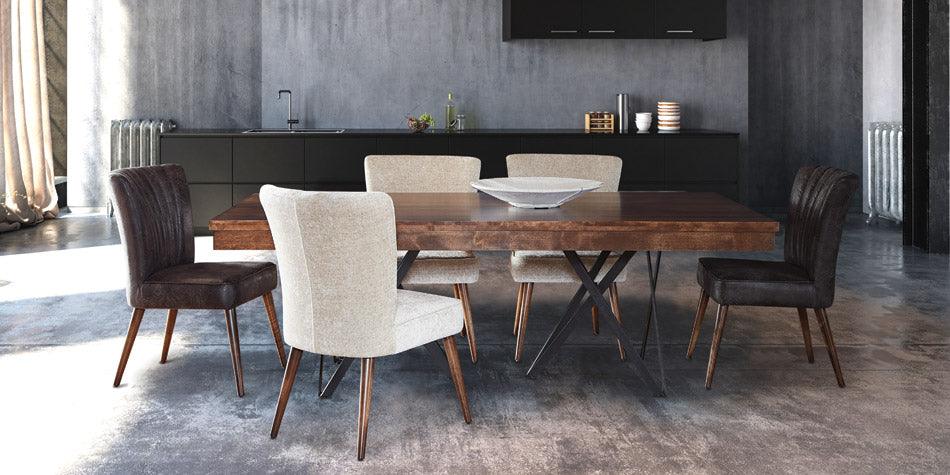 How To Shop Dinec
Now that you looked through the website, you may be wondering, "how do I even go about finding what I want?" There is alot of information on the website and this will be all explained to you down below!
You will initally come to a page like this.
From here, scroll down until you find the table size you desire, below each model number (i.e T022) you will find their collapsed size and their extended size, (i.e 36"x36"x56"x76") The first number and the last number determines the final size when fully extended, this case it will be 36"x76", the numbers between shows that it can be a 36"x36", and a 36"x56" also, depending on how many leafs you put in.
After choosing your table, you will come to this page
Here you will choose you edge, also remember, wirebrush option is only available for option C and D.
Scroll further down and you will find.
You will have some tables with apron options and some with none, good way to see if you can get an apron is based off how thick you want the table to be, anything under 3" thickness will not have any apron options.
Choose from 1-9 depending on the available options.
Further down you will come across the leg section.
Metal bases have option of choosing the final finish, just put the corresponding color code next toe the number (i.e70_B for raw finish on leg type 70)
Some models wil allow you to put pedestal options and some won't, be careful not fall in love with something without going through the whole checklist! Nothing hurts more than falling in love with an inanimate object and be rejected :(
However...
The trusted 4 legged companions are always available for any table type, thickness restrictions may apply on some leg models.
100 and 200 series are for dining height, 800 and 900  are for counter height and bar height.
And Finally, we come to the most anticipated moment, THE COLOR!!
Every model shares the same stain options, they have over 100 stain and finish options to exactly match your, floor, base boards, credenza, buffer, the old antique you got on sunday while getting brunch and is still sitting where your wife told you to move it 2 years ago but now its just part of the house and you accept it and now it will determine you dining table color choice, nice.
Now that you understand the maddness that comes with custom table, you may be wondering, it still want to see it in person! 
Come on down to F2 Furnishings, and check out 62 new items fresh on the floor!