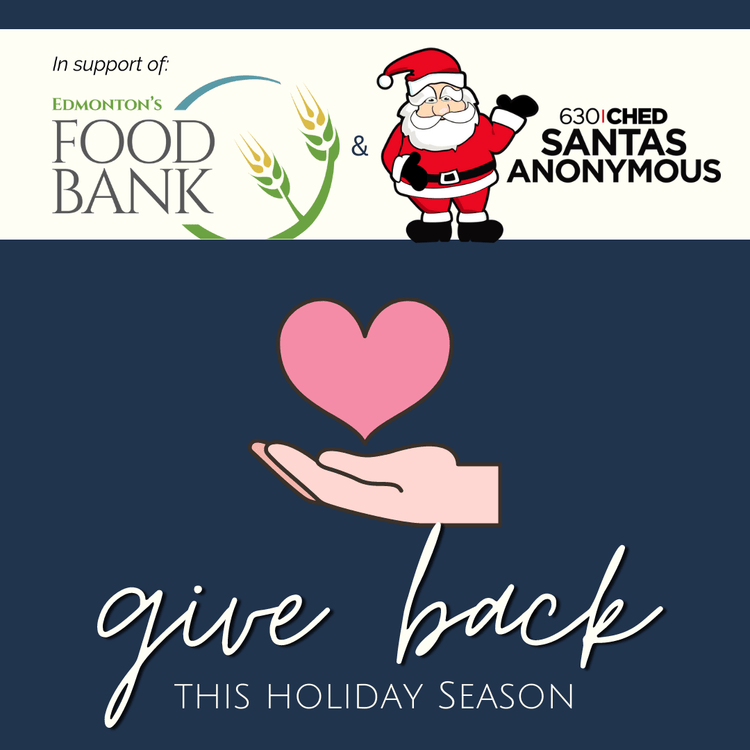 Make a Difference for the Holidays
As the holiday season approaches, many of us are thinking about ways to give back to our communities and help those in need. So we're so proud to introduce a holiday donation drive in partnership with Edmonton's Food Bank and Santa's Anonymous!

F2 Edmonton is collecting donations of non-perishable food items, clothing, and toys to be gathered and distributed to those in need during the holiday season. In addition, with every qualifying purchase over $1000, we're donating $50 towards your choice of the partner charities. With each $1000 milestone you reach, we'll donate another $50. It's an easy and convenient way for individuals and families shopping for furniture to make a difference in their communities, at no additional cost!

We've carefully selected Edmonton's Food Bank and Santa's Anonymous for this holiday donation drive. Both organizations have deep roots helping those in need, providing Edmontonians with essential items and local children with gifts that they may not otherwise have access to. This can make a huge difference in the lives of those who are struggling, and can help to brighten their holiday season.

Edmonton's Food Bank provides 31 million dollars worth of food each year for those struggling to make ends meet, in addition to training programs and school programs to over 88 schools in the Edmonton area. With the holidays rapidly approaching, we can ensure Edmontonians can provide meals for themselves and their families over this festive season and beyond.
Santa's Anonymous collects, sorts, packages, and delivers toys to over 20,000 children every year in the Edmonton area. No child should feel alienated over the holidays or returning to school in the new year due to their financial status. With your monetary support or donated toys, we can make sure every child has a fantastic holiday season.  
When people come together to support one another, it can help to build a stronger, more supportive, and more connected community. This has a ripple effect throughout our city, leading to even more positive outcomes for everyone involved.

You can start gathering donations by setting aside a few non-perishable food items, gently used clothing, or toys that you no longer need. You can also encourage your friends, family, and coworkers to participate as well. When it's time to drop off your donations, be sure to check our store hours. Our team will be happy to help you find our donation boxes! If you'd like to make additional monetary donations, we're happy to point you in the right direction!

Help us make a difference in the lives of those in need in our community. Get involved and help make the holiday season a little brighter for everyone! Thank you for giving back to our community during this holiday season. Happy Holidays!